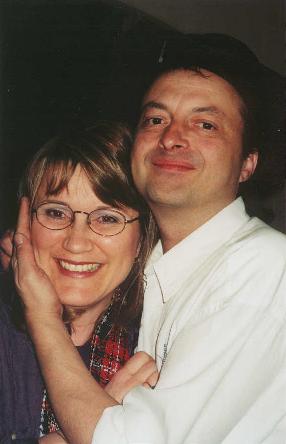 Ian Mitchell Concert
Friday, March 8th, 2002
Downunder Pool and Pony in St. Catharines, Ontario
We arrived at the Downunder Pool and Pony in St. Catharines, determined to get a good seat to see Ian. Good seats we did get, right at the front and a little off to the side of the stage. Throughout the evening while the other performers entertained us, we eagerly anticipated Ian's arrival. Finally as the MC announced his name, Ian snuck up behind him then poked his head out! And there he was, bigger than life! The first thing I noticed was the tartan piping on his blazer. I smiled to myself, thankful he still had Rollermania in his blood. He was dressed casually in black jeans, a white button up shirt underneath his blazer, and this great looking black cowboy hat. A real nice touch was the American flag on his guitar strap. It was a thrill to hear the first Bay City Roller song actually pound out of concert speakers, rather than my stereo speakers at home. I had to keep telling myself this was real. Hearing all our old favorites like Bye bye baby, The Way I Feel Tonight, Rock 'n Roll Love Letter, I Only Want to Be With You, Its a Game, Money Honey, and of course Saturday Night... brought it all back. All the memories and emotions of the fun times when we heard those songs long ago. Between songs we laughed at Ian's sense of humor. He made comments for example, introducing the two guys playing guitar with him as a mock Les and Woody. Then, he turned towards the second guy who was rather chubby and said "My, Woody, You've Put on Weight." Throughout the show the equipment kept giving them problems. Ian handled it with such ease and a nonchalant attitude befitting a star, with great humor and yet grace. The audience was in stitches. He later was handed a couple of notes for announcements, one being an anniversary, then asked "What am I, the wedding singer?" He just seemed so relaxed that he made his audience feel that way too. It was easy to see he was a very likeable down to earth guy, yet a great entertainer that kept us constantly on the edge of our seats wanting more! He even involved the audience in one of their favorite songs, Saturday Night. He asked a couple of girls to come up and sing it with him, and one of those girls was me! What a thrill it was to sing with Ian Mitchell! After quite a few chants of spelling out Saturday night into the mic, Ian finally piped up and says "There ARE lyrics to the song !" That was when we bowed out gracefully, but with the biggest smiles on our faces. Towards the end of his time on stage, Ian dedicated a song to his father, who had passed away only a few days before. This sobered the audience, but then made them admire him even more for having the courage to come on at all that night and not let down his fans. After announcing he wanted a beer, and getting it, Ian finished off his show with "Sunshine of My Life" from his Rosette Stone album, and one last BCR tune. Then as quick as he came, he was gone, leaving behind many happy fans. What Ian didn't see, is the high he leaves his fans on long after he's left . Late into that night and on into the days and weeks ahead, the singing and humming the songs he sang, the excited emails and phone calls that are sent to family and friends... telling all about the night they saw Ian Mitchell from the Bay City Rollers in concert. Thank you for the memory, Ian.

Later in the month, SandraR went to another gig:

Review by and photo's sole property of: Sandra R. Used with permission.
---
Gin's Pictures Are Here!!!!
CHECK GAIL'S PICTURES OUT!!!!!

TOO KEWL!!!!
---