I don't mind admitting.....nope.....not a bit.....I wasn't worth a nickel the day I went to my mailbox and saw the "Rearranged" cd had arrived. With a fever that could rival pneumonia, I tore it open.......staring in awe at the track listings and then......could it be?......yes!!.........it was autographed!! Now, who would have thunk it? This is how many years after I "discovered" the Bay City Rollers and my favorite, Ian

.......alright, 25 years.....at least. I immediately put it in my way kewl Pioneer and won't fit to kill for the rest of the day. I can tell you this; by nightfall my 5 year old son, Kendall, knew most of the lyrics to "Lonely Nights"......does this give you a clue? Thankfully, his twin brother, Dillon, accompanied him on his trusty Fisher Price guitar, so my boys had it going on.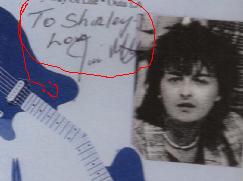 Would you think I was lyin' if I told ya I got a kick out of the cd arriving autographed?
---
Bay City Rollers-Dedication album (Japanese Import)

---

Let's Pretend

You're A Woman

Rock 'N' Roller

I Only Want To Be With You

Yesterday's Hero

My Lisa

Don't Worry Baby

Are You Cuckoo?

Write A Letter

Dedication

Rock 'N' Roll Love Letter

Money Honey

Love Me Like I Love You

Ian Mitchell Band-Rearranged

---

Lonely Nites

Suddenly You Love Me

Goin' Back

Jailbait

Only 17

Take Me Back

Midnite In Tokyo

Hold On To Love

Boulevard LA

Girls In Jeans

Put The Lights On

Eloise

Crazy Way Of Life

Outa LA